Monday, March 30th, 2009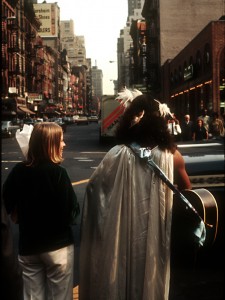 I met a man on the subway yesterday. I was reading Sylvia Plath's "The Bell Jar" and he was reading Lillian Hellman's "An Unfinished Woman" and he struck up a conversation with me about the lives of successful women writers: did they all fall into depressions and/or insanity?
This man, several generations my senior, had dramatic, bony fingers and a long, narrow, slightly hollowed out face. His long silver hair was slicked back neatly and his navy sweater and corduroy jacket hung off him as if on a hanger. He talked about moving to the village from Midwood, Brooklyn in 1965 to attend NYU. He talked about old bookstores on 8th Street where the great writers of that generation would hang out. What a different place it was then!
For all of his references to classic literature and writers, you would assume he was a writer himself, or at least a professor. But he's not; he's an artist. He left NYU to attend the Art Students League of New York because he was always skilled at draftsmanship (he said he hesitates to use the word "great" to describe anything, and I imagine particularly anything relating to himself).
We must have talked for at least twenty minutes; well, it was mostly him talking, and me nodding agreement. He apologized several times for taking up my time, but the truth was that listening to his stories and theories was the highlight of my day. He confessed he was an extrovert (how true!), and found that most people were introverts, perhaps as a means of defense, and how unfortunate it is that people aren't more open to each other. He wanted to give me his copy of "An Unfinished Woman", because he was sure I would love it, except that he couldn't because he had only just started it. When I laughed, more at the sheer logic behind that, he must have thought I didn't take him seriously. No, I've done that before, he said, telling me about a time when he gave his copy of Laurence Olivier's biography to Uma Thurman when he saw her on the street in the village because he just figured she would enjoy it.
I wanted so badly to take his picture, to arrange for another chance to talk to him and hear his stories, but I didn't want to spoil the spontaneous conversation we were having. His name is Alan Lloyd. I can't find him or his work anywhere online, although he said some of his art is at the Pace Wildenstein Gallery.
But I'm glad he spoke to me, and that I was willing to engage him, because it took me out of my own life and agendas. It gave me just enough fresh perspective to see why it is that I love life and I love this city so much.
And today I reserved a copy of "An Unfinished Woman".
*photo credit: http://www.rchrd.com/photo/archives/new_york/new_york_city/*