Wednesday, March 4th, 2009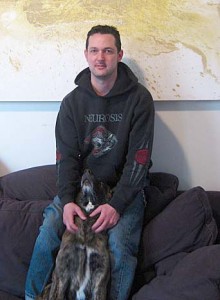 I always thought I would be working in the arts of some sort. I just like the process, you know, cause it's like, whenever you're making something, you're not thinking about yourself. And New York had always been on my list of places to live before I died. I moved here from Austin, Texas about two years ago. For a girl. It was a real culture shock. I mean, I grew up all over the midwest. I've never paid more than $500 a month for rent in my life.
When I first moved here, I was trying to do music. I started playing the guitar when I was about 14. I had this red lightbulb and I used to turn off all the lights in my bedroom and blast "Shout of the Devil" by Motley Crue as loud as I could and play guitar to it. I had lived in Austin for about fifteen years, playing in bands. But there's a certain amount of reality that you come to when you play music: that you really don't like being poor all the time and being stuck in a van with two smelly dudes. It's sort of a vagabond lifestyle. It's great for single dudes; I mean it's fun going around and seeing the country, but when you have a girlfriend and a dog, it doesn't work so well.
What I'd really like is to be a painter and a photographer and sell that work for a living. I got my B.F.A. in Painting from the University of Kansas, but I sort of like all artistic mediums. I'm pretty good as an illustrator, I love painting, I like shooting and developing pictures- both. I've never done much sculpting with clay, but lots and lots of pounding and hammering and stretching and molding of metal. But it's hard here because I can't afford a studio and the kind of work I do requires a lot of floor space.
When I'm painting, when they turn out best is when I'm just, like, completely out of my mind, almost like a meditation. When there's nothing bothering me. When you can go out to the studio and spend like eight hours in there. I guess it's just easier to do photography, just 'cause you don't have to have a studio. A lot of the stuff that I take pictures of is like environmental stuff, not people. So if I'm not interacting with anybody, it can have that same sort of meditative thing. Just, like, get on your bike or get in the truck and get lost, you know? See what you can find.