Thursday, February 19th, 2009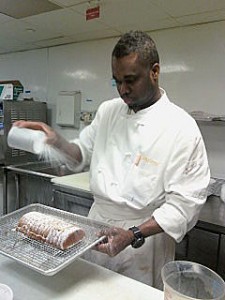 AMADOU LY | NYC Pastry Chef at Restaurant Insieme
It's hard for Chef Amadou Ly to blend in. Not that he wants to. He has a unique, gravelly voice that is impossible to miss and equally as impossible to imitate. He used to have a big afro of black hair, styled neatly back into two buns, until the Health Department made him cut it. He has a vibrant energy, and a little sprinkling of the craziness and unpredictable temper of any chef.
There is nothing predictable about him, in fact, whether you're meeting him for the first time, or have known him for years. Even as a kid, he was spontaneous, or, as he puts it "a little confused". He was born in Togo, in Western Africa, and lived with his parents and his three younger brothers and a younger sister until he was 25. The family moved around a lot, mostly between Ghana and Senegal.
"My father sells art, African art, antiques. He buys them and then sells them. He would travel a lot, to Europe, and sometimes he would bring us." Amadou was interested in art as a kid, especially painting. Being that he was raised in French-speaking cultures, he says: "I thought I'm gonna end up in Europe. But I really didn't know what I'm going to do."
He spent a brief period of time in Paris when he was 25, where he went to study Political Science. Then he returned to Ghana to study English, which prompted him to move to New York. Here, he took a part time job working at the restaurant Union Pacific on 22nd Street. "I worked in the kitchen. I was in charge of a lot of people." And then, unexpectedly, he fell in love with pastry.
"Basically, I get immersed in the pastry. I thought, this is a great thing! It is more of an art to me than cooking, like, meat. And I love chocolate. So I thought, Well, here you go. I taught myself, basically by reading a lot. And I worked with some really great people, but the rest was just me because I loved it. The only thing I don't like is cleaning up after you're done. That's the worst, man. The worst."
As is to be expected, Amadou doesn't know what will come next for him. "Something in pastry, always, but it's a lot more broader than you think. I wanna do more things, challenge myself. You can't spend the rest of your life in a pastry kitchen."