Monday, April 13th, 2009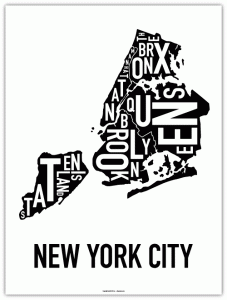 I love these maps. I first came across the Brooklyn version on another well-versed arts and culture blog, 3daintydelights.com, and like a good sleuth, followed its trail back to the designer's website. Her name is Jenny Beorkrem and her company is called Ork Posters ("ork" is taken from part of her name). Her story, like Raoul with his t-shirts, is another one of attempting to simply fill a void: Ms. Beorkrem was looking for a Chicago neighborhood poster that wouldn't "cramp her style" and when nothing fit the bill, she decided to just make one of her own. Why not, right?
The posters are screen prints, which is made by pressing ink through a stencil over a very fine mesh screen. This has the effect of making the product look less exact, a little more DIY and renegade, which has, apparently, become a popular aesthetic. She uses recycled materials, not to mention, donates 2% of her profits to both a local and international not-for-profit each year.
Ms. Beorkrem, in her ripe mid-20s, lives in Chicago, but has designed maps of 13 cities in North America. Although the idea for the company came from a simple, personal desire, she has started to see a deeper impact and influence that the posters can have on society. As she explained in an interview with Speak Up (a division of UnderConsideration.com): "Where we live is a large part of our identity, but I think a lot of us limit our sense of community, who we'll identify with, sympathize with, do business with, converse with, to our close surroundings, or our neighborhoods. Hopefully the posters serve as a visual reminder that there's more out there. We're part of something larger than what we see every day between work and home. And, now more than ever, we have to take that, even far beyond city limits, into consideration when we make choices in our lives."
It already worked on me: I was surprised, in looking at the map of New York City, that Manhattan was rendered as just a tiny little sliver tucked in amongst the looming size of the Bronx, Queens and Brooklyn. It always seems like Manhattan is the center of everything, the most important part of the puzzle, and yet in reality, it can't hold a candle to the immensity of the other boroughs (except Staten Island, of course). A little perspective does us all good!
* photo credit: www.orkposters.com *