Friday, November 27th, 2009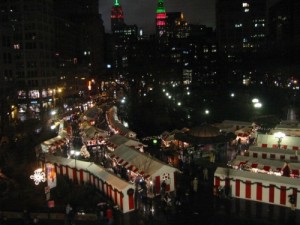 November 27, 2009
by Cassie Newman
It could be said that Union Square is the center of New York City. Of course, this statement is incorrect geographically speaking, and many tourists probably don't have the spot on the top of their Must See/To Do lists. But ask a New Yorker, or take a look through the history books, and suddenly this theory is merited. Just think about this: Union Square has been playing host to the people of New York since 1839. That's 170 years, folks. The first Labor Day celebration paraded through in 1882, and ever since, Union Square has been a breeding ground for protests, parades and celebrations.
But protests are left mostly to the locals (as is the skateboarding). If anything is going to bring the tourists to Union Square, it's the markets. At the turn of the 20th century, the cobblestone paths were home to a local flower market. The flowers have faded, more or less, in the shadows of the bountiful edibles which now fill the square three days a week as part of the Greenmarket. For over 30 years, this farmer's market has been a local landmark that both chefs and foodies alike swear by and depend on for the season's best produce.
And with the changing of the seasons, comes the now infamous Holiday market with its candy-can striped stalls, open now through Christmas Eve. All of the hustle and bustle that is standard to Union Square will be shepherded through the market's windy paths, all aglitter with everything from jewelry to scarves to sculptures.
If Union Square is the center of New York, itself an epicenter for shopping, then surely this Holiday Market is the place to be for anyone (both tourists and locals) with a little shopping to do. So start checkin off those lists (including your newly updated Must See list)!
P.S. YUMI CHEN booth can be found near E. 14th Street in the center of the holiday market, close to the subway, near the hot chocolate and brownies booth, and on the Whole Foods side of Union Square.) Swing on by our booth and receive 10% off all holiday purchases at Union Square when you mention Yumi Chen Blog!
Hours: Monday through Friday, 11 AM to 8 PM; Saturdays, 10 AM to 8 PM; Sundays, 11 AM to 7 PM; and 11 AM to 4 PM on Christmas Eve.
* photo credit: http://tinyurl.com/yldffm5 *